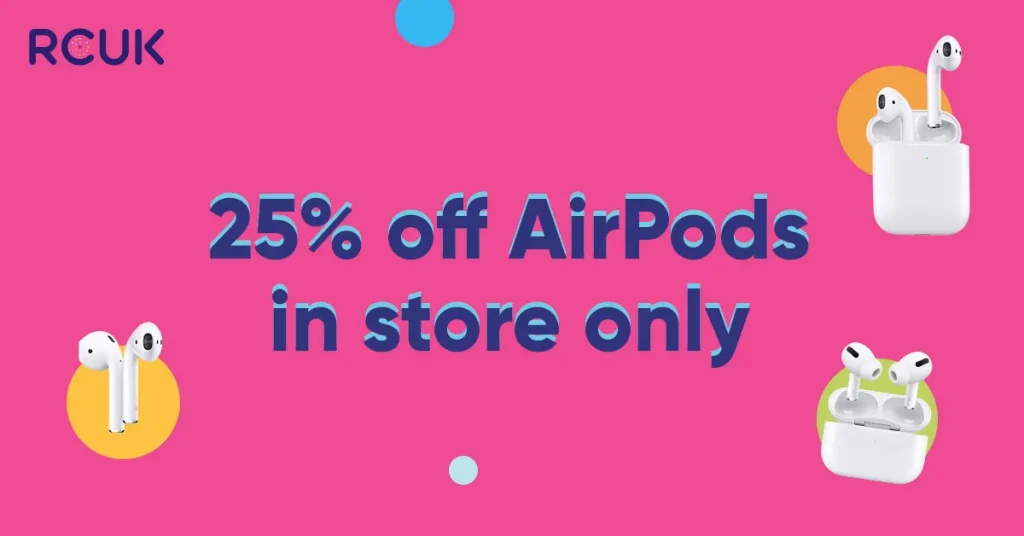 Here at RCUK we're counting down the days until we can open our doors to in-store shoppers after Lockdown 3.0. All three retail branches will open on Monday 12th April, and we look forward to assisting you with all your mobile phone needs in person once again.
To celebrate, we're offering a massive 25% off our entire AirPods range! This offer will be available to our in-store shoppers only, whilst stocks last. Simply ask our retail team if you'd like to take advantage of this fantastic deal.
Why choose AirPods?
AirPods deliver an unparalleled listening experience with all your devices. Every model connects effortlessly and packs rich, high-quality sound into an innovative wireless design. Choose from all three devices in the range, including AirPods Max, AirPods Pro and AirPods.
All three devices come with a charging case, and you can enjoy up to 4.5 hours listening time on a single charge. After a simple one-tap setup, just put the AirPods in your ears and they connect automatically to your device, instantly immersing you in high quality sound.
AirPods Max, AirPods Pro and AirPods feature voice-enabled Siri access. Simply say "Hey Siri" for assistance without having to reach for your iPhone. And with Announce Messages, Siri can automatically speak your incoming messages as they arrive. You can choose which contacts you hear them from, and Siri won't interrupt you if you're on a call or sharing a song.
To buy now
Visit us in store and speak to our friendly retail team!