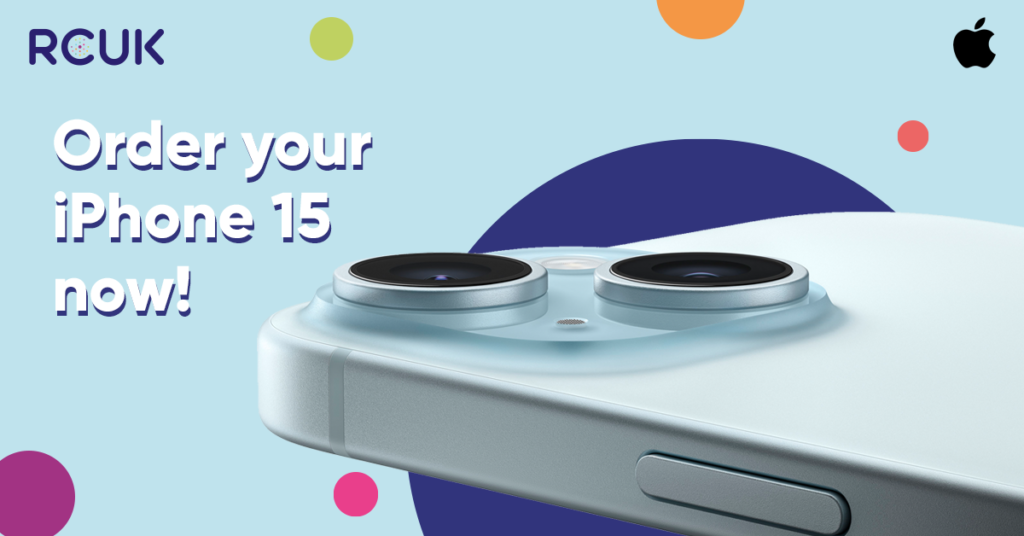 Get yours with RCUK!
Earlier this month, Apple unveiled the iPhone 15 range. With an exciting new colour range, the Dynamic Island, a 48MP main camera with 2x Telephoto, and improved battery life amongst many other upgraded features, tech lovers are eager to get their hands on a handset of their own.
We are pleased to announce that RCUK has launched the iPhone 15, iPhone 15 Plus, iPhone 15 Pro and iPhone 15 Pro Max.

Available in store now. Prefer to order from the comfort of your home? All you need to do is call our orders hotline on 020 8209 2700 or email mobile@rcuk.com and let us know which model, storage capacity and colour you'd like to purchase.
We know you'll be eagerly waiting, so you can expect to hear from us as soon as your handset is available!
So, what are the options?
The iPhone 15 and iPhone 15 Plus is available in 5 colours: pink, green, yellow, blue, and black
And, the iPhone 15 Pro and iPhone 15 Pro Max is available in 4 colours: natural titanium, blue titanium, white titanium, and black titanium.
Made up your mind about which iPhone 15 you're going with?