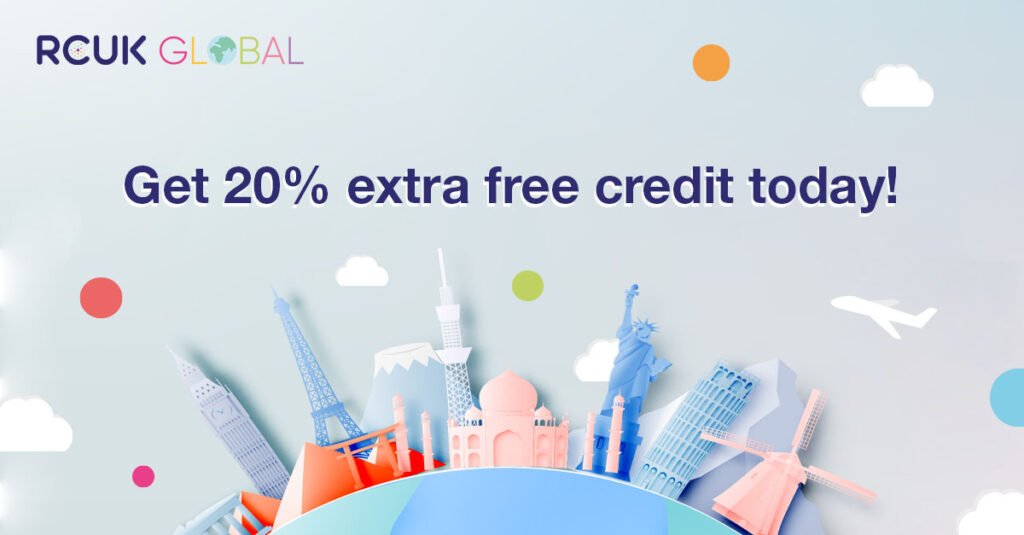 What is RCUK Global?
RCUK Global is an international calling service that offers competitive rates worldwide.
With the new RCUK Global Web App you are in control. You can top up your account, add magic numbers, and set up direct dials from our easy-to-use platform, so you can stay connected wherever you are in the world.
And there's never been a better time to sign up, as we're offering 20% extra free credit when you top up a minimum of £20! Just quote promo code "global20" when you sign up with us.
Why should I choose RCUK Global?
In addition to competitive rates to destinations worldwide, you can easily create and manage your account for all your international calling needs such as:
• Register multiple numbers with no pin needed
• Manage your speed dials
• Buy monthly subscription plans
• Display an international caller ID
• Purchase call forward numbers
• Set an auto-top-up
Want to find out more about RCUK Global?
Call us on 020 3319 9400, or email us at global@rcuk.com